Ringo



Name

Ringo-chan

Japanese Name

りんごちゃん

Gender

Female

School

Sanada East High School

Occupation

High School Student (3rd-year)

Student Council President

Anime Debut

Episode 4

Voice Actor

Aoi Yūki

Hair Color

Brown

Eye Color

Brown
Ringo-chan (りんごちゃん) is the Student Council President of Sanada East High. She is a recurring female character in the series and has a rather one-sided rivalry with Sanada North High's Student Council President, though the latter does not seem to take much notice.
Appearance
Edit
Ringo has big brown eyes and short auburn hair, which is usually kept in place by a light-green hair clip. She is quite short and tiny in stature, a fact that she apparently feels insecure about. She is usually seen wearing the standard uniform of Sanada East High. An interesting trait she bears would be the perpetual blush on her cheeks (this may be because the cheek area is sometimes referred to as the "apples of the cheeks" and Ringo literally means "apple" in Japanese). Sometimes when she hears a cat she starts to look like one.
Personality
Edit
She is full of pride, has a short temper and an inferiority complex but she is a bit of an airhead, which leads her to getting tricked very easily, like mistaking Karasawa's snoring for a cat meow's and standing on a step ladder in the Sanada North High Student Council Room to connect an internet cable to a intentionally misplaced router just so the Council could look at her panties from underneath. The Sanada North High Student Council has given her the nickname "Ringo-chan." Interestingly, Ringo (リンゴ) in Japanese can mean apple or the first name of Ringo Starr. The SCP may have nicknamed her that because of her bowl-cut hair that resembles Ringo Starr's look in the 60's, or because of her reddish brown hair resembles the color of apples (or simply because she looks good enough to eat. At this point, Ringo would punch the SCP for thinking this, and he would respond by quickly apologizing.) Ringo also seems to have a big appetite. She also appears to be quite popular and gets hit on easily.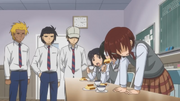 Relationships
Edit
Student Council President
Edit
They have a rivalry, mostly Ringo despising boys because of her inferiority complex she denies.  They are equals in regards to their school, Ringo is Student Council President of East High and SCP is Student Council President of North High.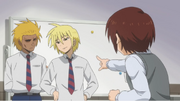 She in fact, is titled "Ringo" because of SCP.  SCP has hit on her by asking "Hey! wanna grab a bite to eat?."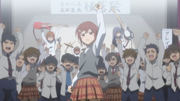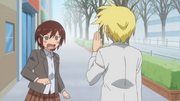 The two are a possible couple.